Jay Nolan Community Services
On-Demand Training
On-Demand Online Training
Jay Nolan Community Services
JNCS Training
Training Information & Support Line: (818) 361-6400 x155 or x147
Our organizational training department at Jay Nolan Community Services has a threefold mission. First, to provide training to new employees so that they are equipped with the information and skills they need to be successful on the job. Second, to provide ongoing training and skill set that aid in the professional development and retention of incumbent staff. And third, to develop and create events and opportunities for community outreach through our educational programs and advocacy involvement.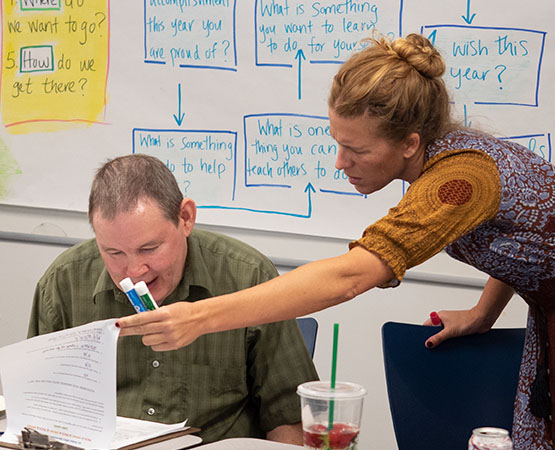 On-Demand Online Training
Available Classes:
Sexual Harassment Prevention Training (Required every 2 years)
Non-supervisor staff:
Minimum of 1 hour of sexual harassment prevention training required every two years
English:
Request an email link from the Training Department (Ext. 155).
Look for an email from Guardian HR (not from Jay Nolan Community Services) with login credential and a unique password to sign up for your online training.
Complete the one-hour online training
JNCS Training Dept will be notified automatically once you complete the training.
English, Spanish, Korean*, Vietnamese, Tagalog and Chinese: 
After completion, download and return your certificate to the Training Department by email at: training@jaynolan.org to receive credit
Supervisors and Managers:
2 hours of sexual harassment prevention training required every 2 years
Via email from Guardian HR. See above for instructions.
COVID-19 Certification Training (Required, one-time)

CareAcademy's COVID-19 Certification Class prepares direct care workers to perform critical frontline work during today's challenging times. With this self-study class, gain relevant, reliable information about the virus and learn how to care for yourself and your care recipients amidst the COVID-19 pandemic.
English: 
Spanish:
Please RSVP to an upcoming online Spanish-language training through the JNCS Training Department to complete your certification in Spanish.
Get to Know US
Jay Nolan Community Services has been empowering individuals with autism since 1975. Learn more about who we are, meet our staff and browse the services we have to offer.
Become a Volunteer
Whether it is joining a committee, helping to plan a fundraiser, doing some office work, or helping to paint a house, our volunteers provide an important service.