Jay Nolan Community Services
Training Department
Learning never exhausts the mind
Jay Nolan Community Services
JNCS Training
Training Information & Support Line: (818) 361-6400 x155 or x147
Our organizational training department at Jay Nolan Community Services has a threefold mission. First, to provide training to new employees so that they are equipped with the information and skills they need to be successful on the job. Second, to provide ongoing training and skill set that aid in the professional development and retention of incumbent staff. And third, to develop and create events and opportunities for community outreach through our educational programs and advocacy involvement.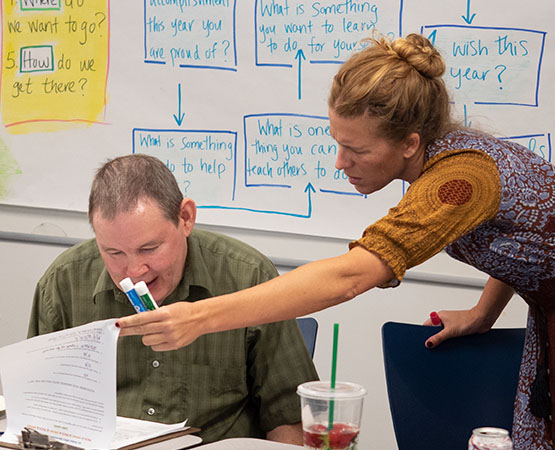 Training Events FAQ
How do I register for a training event?
Please use the following steps to register for a JNCS employee training event:
First, you must confirm your attendance with your Supervisor (call, email, or text)
Second, RSVP online by clicking on the event of your choice from the list above and filling in the 'RSVP To Event' section with your details
If you'd prefer to call us, please dial (818) 361-6400 to schedule a training with our receptionist.
Do I have to register for a training event?
Yes, all events require advanced registration. If you are a member of the public and would like to attend a training event, please Contact Us.
Where can I download the Current Training & Events Calendar PDF?
What is MANDT Training? Is it required?
The Mandt System is the core learning curriculum at JNCS. We require all employees to certify in Mandt every year.
Mandt teaches staff the strategies for building healthy relationships with the individuals they support in order to recognize potentially negative situations and use prevention and de-escalation techniques to avoid/prevent challenging behaviors. By calming your own emotional responses and managing your behavior you can interact with other people positively. Training focuses on providing non-physical strategies and tools to help cultivate healthy communication skills and steps for helping people de-escalate. Healthy workplace relationships are necessary components to create trust between supported individuals and staff.
What Trainings are required for JNCS Employees? How often do I need to recertify?
Mandt 1 & 2: Required every (1) year.*

*One day only if you recertify within 12 months

SIR Mandated Reporter: Required every two (2) years.
CPR and First Aid: Required every two (2) years.
Foundations: Required every three (3) years.
Sexual Harassment Prevention: Required every two (2) years.
I am a JNCS staff. How do I check which of my Trainings are expired?
Please contact your supervisor for a list of any expired trainings.
How do I request an interpreter for an upcoming training class?
All requests for ASL or other language accommodations must be emailed with the name, date, and time of requested training event. Requests must be received at least 2 weeks before training date. Please send requests to: training@jaynolan.org
Where can I get more information or support?
For more information regarding our Employee Trainings or Community Trainings, Please call (818) 361-6400 and use either extension 155 or 147. You may also send a message using our global contact form.
Get to Know US
Jay Nolan Community Services has been empowering individuals with autism since 1975. Learn more about who we are, meet our staff and browse the services we have to offer.
Become a Volunteer
Whether it is joining a committee, helping to plan a fundraiser, doing some office work, or helping to paint a house, our volunteers provide an important service.