Jay Nolan Community Services
Training Department
Learning never exhausts the mind
Jay Nolan Community Services
JNCS Training
Training Information & Support Line: (818) 361-6400 x155 or x147
Our organizational training department at Jay Nolan Community Services has a threefold mission. First, to provide training to new employees so that they are equipped with the information and skills they need to be successful on the job. Second, to provide ongoing training and skill set that aid in the professional development and retention of incumbent staff. And third, to develop and create events and opportunities for community outreach through our educational programs and advocacy involvement.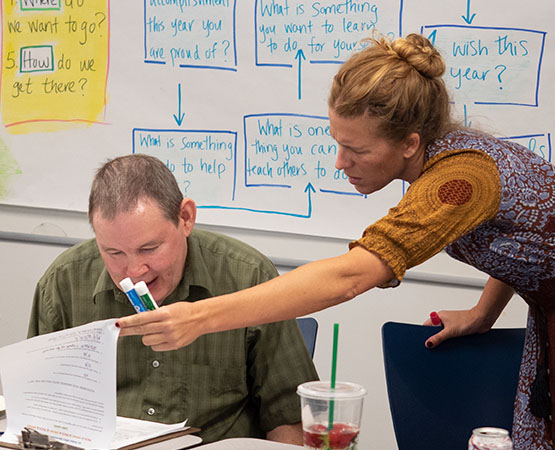 Jay Nolan Community Services
Paycom Learning Tutorials
We offer online and in-person trainings for JNCS employees. Register for both using Paycom Learning. Paycom Learning makes it easier for you to register for register for trainings, access training materials, upload completed tests, and keep track of your certifications.
Please review the tutorials and instruction sheets to get started using Paycom Learning.
Training Events FAQ
What Trainings are required for JNCS Employees?
Within 7 days of being hired (Note: 14+ days if special needs or accommodations are required)
Mandt 1&2 – Required every (1) year.
CPR & First Aid – Required every two (2) years.
In- Person Mandt and CPR Physical Skills Class – Required if Mandt &/or CPR is taken online. Please complete the skills classes within 60 days of the original course. (Note: This class is now being provided quarterly in the San Jose Office and twice monthly in the Mission Hills Office.)
Within 14 days of being hired (Available as self-study courses)
Sexual Harassment & Discrimination Prevention Training – Required every two (2) years.
SIR Mandated Reporter – Required every two (2) years.
Covid 19 Prevention – Required only one (1) time if taken after 1/1/2022.
Within 90 days of being hired
JNCS Foundations – Required every three (3) years.
How do I register for a Training? Are all Trainings now in the Paycom App?
How can I get help using Paycom Learning?
How do I request an Interpreter for an Online or In-person Training class?
Inform your supervisor of the class you want to attend and secure coverage if necessary.
Then, register for your class in Paycom Learning.
Request the interpreter with the Training Department at least 2 WEEKS BEFORE your class date.
Contact us at Training@jaynolan.org or you may absolutely call Camille at 1-818-361-6400 ext. 157
How do I check which of my trainings are expired?
Log in to your Paycom portal. You can view the history of your Training classes and the date of certification in Paycom Learning. Then go to History to view your completed courses and their completion dates. If you need additional assistance contact us at training@jaynolan.org.
Are Covid-19 Procedures still in effect for In-Person Training?
Everyone entering the training facility must first sign in with their contact information. Please arrive 15-20 minutes before class starts. Masks are now optional. All attending in-person training must listen to the instructions given by their instructor. This includes any procedures regarding health and safety that go beyond those listed above.
The Mandt System is the core learning curriculum at JNCS. We require all employees to certify in Mandt every year. This training focuses on managing your own behaviors, de-escalation techniques, and building healthy relationships.
Can staff submit their Certificate for CPR training completed with an outside program?
We will only accept certificates if completed within 3 months of hire or recertification from an In-person CPR and First Aid class. In-person means you were monitored by a CPR instructor doing physical compressions and breaths.
We only accept Outside CPR Certificates utilizing the American Heart Association or American Red Cross guidelines.
All questions regarding CPR Certificates including for New Hires should be directed to Camille Watkins at cwatkins@jaynolan.org cc: Training@jaynolan.org
Am I required to do In-Person Physical Skills Class for Mandt and CPR, and How do I register?
Mandt and CPR/First Aid core training events require instructor observed, physical skills demonstrations in a classroom setting. All staff taking online versions of these classes must complete the in-person skills demonstrations to finalize their current certification. Both will be completed on the same day. 

Please register for a timeslot of your choice on Paycom Learning by logging in to your Paycom portal. 
Can staff submit their Certificate for Mandt 1&2 training completed with an outside program?
No. We do not accept Mandt 1&2 certificates from outside training organizations because we have a unique perspective on how we apply Mandt "Physical Skills" if at all. All staff coming into Jay Nolan must certify for Mandt 1&2 with the Jay Nolan Community Services Training Department.
Do I have to take Mandt 1&2 two days in a row even if something happens and I miss my second day of class, arrive late, or have to leave early?
Yes. Mandt 1&2 is a two-day training that needs to be taken back to back. If you arrive over 30 minutes late, have to leave early, or for some reason miss your second day of class, then you will be asked to reschedule and take both days in a row at a later date.
Why does Paycom show that I haven't completed the Live class Session (Mandt 1 & 2, CPR First Aid, or Foundations)?
The class is not completed until the trainer has finalized the class roster. The Training Department has 7 working days to complete the class roster. Please wait to ask about class completion until 7 days, not including weekends, after completing the class. If we see that there is some required activity from a student required before we can close the class, we will contact them and their supervisor.
Why is my Self Study class not 100% even though I think I uploaded the necessary documents?
If you successfully uploaded a certificate BUT, your class is STILL IN YOUR ASSIGNED LEARNING at less than 100%, you need to review your approved certificate to convert it to 100% and for Paycom to autocomplete the class.

Login to Paycom, Open the course and click the necessary Upload section to "view" your uploaded material. Doing this will close out your course at 100%
Classes at 100% move from Assigned Learning to History.

If when you check for the Certificate or document Upload – if it is blank and you see a Submit button, you still need to upload your certificate or document.

Please make sure to change the name of the certificate so that it has no special characters (**&%#) including parenthesis ().
Once you change the name you can Submit it. Please then wait for the approval.
After your certificate has been approved (you will receive an email) you must then log in to Paycom, open the course, and click the upload section to "view" your document. Doing this will close out your course at 100%!
Classes at 100% move from Assigned Learning to History.
Get to Know US
Jay Nolan Community Services has been empowering individuals with autism since 1975. Learn more about who we are, meet our staff and browse the services we have to offer.
Become a Volunteer
Whether it is joining a committee, helping to plan a fundraiser, doing some office work, or helping to paint a house, our volunteers provide an important service.