How AI Transforms Soft Skills Training for Individuals with Disabilities
In every job field there are the technical tasks required to fulfill that specific job. These include what you are trained on and learn day one going forward. But what many do not realize is there are additional 'invisible' skills  that constitute a success in the workplace. These are called "soft skills" and they include interacting with colleagues and building work relationships. 
Employment Soft Skills Training at JNCS
Jay Nolan Community Services provides a program that teaches soft skills in an employment setting. With Jay Nolan receiving the DDS (Department of Developmental Services) Employment grant, there is a whole curriculum on soft skills that was created within an employment preparation training program that is accessible through Employment Services at Jay Nolan. This Employment Soft Skills Training Program will be incorporated in a supported individual's job development program and typically spans 12 weeks.
New Technology Training a More Diverse Workforce

New technologies are emerging and are able to assist individuals with practicing soft skills in the workplace. With so many ASL, Spanish, and Korean speaking individuals entering these trainings, it is vital that language and communication be accessible for all. One way Jay Nolan does this is by introducing individuals in the program to the Google Pixel Buds A-Series which translate in real-time for Spanish and Korean speakers. This allows for fast and precise interpreting in any situation that requires immediate action.
Simulating Real Interviews Using AI
Additionally, Jay Nolan collaborated with USC Institute for Creative Technologies to create a mock interview software. This software was discovered and brought to Jay Nolan by Manager of DOR Services Karen Navarro and her team. Working to improve the resources of JNCS is a passion for Karen, claiming "It was important to me with the grant to have something a little different. We are in an age of a generation who lives and breathes technology, so we needed something that appealed to the young 18- to 24-year-olds."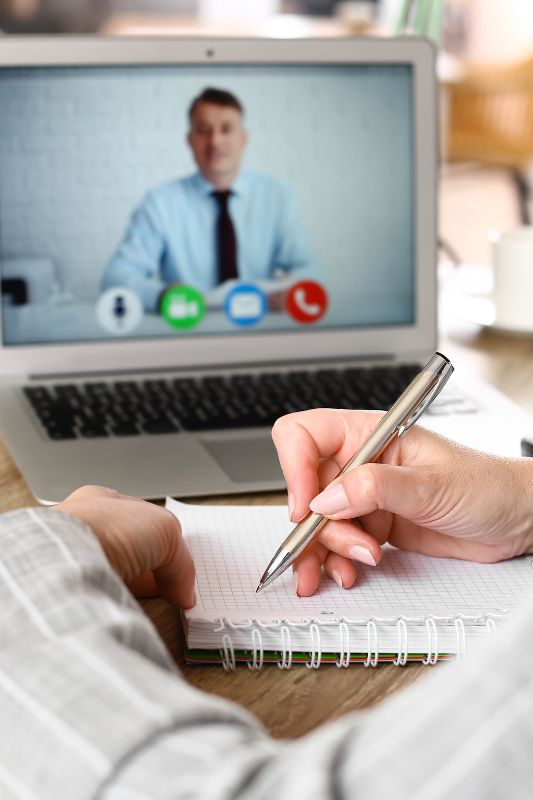 One of the job developers describes the mock interview software as a simulation with dual monitors where one features an avatar of what would be representative of a boss or an interviewer in that setting. The software also allows for level settings to practice with superiors who are amiable to moderate to difficult; adjusting answers as needed depending on the difficulty setting chosen. Instructors working with an individual in these simulations will be stationed in an adjoining room controlling the simulation interactions on a laptop by posing different questions and managing the personality and difficulty setting of the boss or interviewer.
"We are in an age of a generation who lives and breathes technology, so we needed something that appealed to the young 18- to 24-year-olds." – Manager Karen Navarro
Fully Customized Soft Skills Training
The simulation can even take it one step further by generating a visual location where the interaction takes place, such as a hardware store, office, or even a restaurant. There can be numerous combinations of location, difficulty setting and appearance of the boss or interviewer.
AI is a big part of the visual aspect, and the simulation is programed with a few questions to start off. But instructors create the bulk of the questions that can be asked of the individual using the program, so they are more targeted towards their specific needs. This mock interview software allows instructors to pull themselves out of the picture so that there is less response bias or personal connection reactions to achieve a more authentic discussion.
The Future of Soft Skills Training

The goal of the Soft Skills Training program is to use new technologies to assist people in overcoming shyness and anxiety surrounding interviews and offer the opportunity to practice the soft skills needed for the workforce. With some help from new developments in AI, we can help make employment more accessible and build a more neurodiverse workforce.
About the Author: Noelle is the Social Media Representative for Jay Nolan Community Services. She graduated with her BA in English from California Polytechnic State University in San Luis Obispo and will obtain a Masters degree in Marketing from Georgetown by 2025. Noelle has a passion for reading and writing, which she uses to create blogs. Noelle loves sharing the success stories of all the supported individuals at Jay Nolan.