Developmental Disabilities Awareness Month
Every March, Developmental Disabilities Awareness Month seeks to raise awareness about the inclusion of people with developmental disabilities in all facets of community life.
#DDawarenessMonth
For this special awareness month, the National Association of Councils on Developmental Disabilities (NACDD) partners with other agencies and individuals across America to create a social media campaign that highlights the many ways in which people with and without disabilities come together to form strong, diverse communities and to raise awareness of the barriers that people with disabilities still sometimes face in connecting to the communities in which they live. 
Most importantly, this campaign to showcases the excellent work that is being done to celebrate and improve the lives of people with developmental disabilities.
Improving the Lives of People with Developmental Disabilities
The mission of Jay Nolan Community Services is always and ongoing: we enable individuals with Autism Spectrum Disorder and other Developmental Disabilities to live fulfilling lives as members of the community by providing support services customized to their individual needs. Building inclusive communities lies at the heart of that mission.
We believe that community is not whole and it's not healthy until all members have the opportunity to contribute. Each and every individual has the right to the pursuit of happiness, and every individual has that capacity and that right to contribute to society. That's why we offer dedicated services to help people with developmental disabilities live in their own homes through our Supported Living Services, pursue and maintain employment of their choice through our Employment Services, and offer support to families through our Family Support Services. With the right kind of support, all individuals can live independent and contributing lives.
Spotlight
Val recently celebrated 17 years of employment with Vallarta and celebrated her 65th Birthday. Go Val!
Check out our Facebook or Instagram for more success stories.
Staff Allies
We asked some of our incredible staff here at JNCS what it means to be an ally to individuals with developmental disabilities. Here is what they said: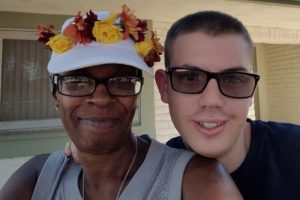 Loni Kemp has been supporting Danny in his pursuit of happiness. With 8 years working for JNCS, we asked her for her best advice on how to build meaningful relationships. Here is what she said:
"Take time to truly listen to the person as they want to be heard."
Could not be more true. Thanks Loni!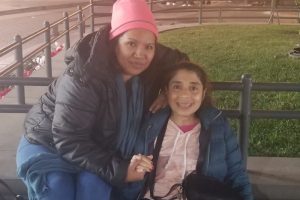 Liu-ma Tadeo has been a wonderful support for many individuals throughout her 20 years with Jay Nolan Community services. Her best advice on being an ally and building meaningful relationships is simple:
"Trust, honesty and integrity."
Words to live by. Thank you for your many years of service, Liu-ma!
Celebrating JNCS Talent
Many of the people we support through JNCS services are exceptionally talented, and we can't pass up the opportunity to showcase their incredible work:
Vicki Nakash is a fantastic painter who uses expressive color to depict a variety of different subjects with flair and tons of creativity. Check out her paintings here: https://gotartwork.com/Profile/vicki-nakash/1641/
Hunter Larkin is a graphic artist who creates quirky and unique doodles with a lot of personality. He runs his own small business where he prints his original designs on everything from tote bags to gift cards. Shop at Hunter's online store at: https://hunter-larkin-art.square.site/
---
How to get involved
It's as simple as spreading awareness! Post your story using the hashtag #DDawarenss2021 on social media.
Together we can help raise awareness of the incredible achievements of individuals with disabilities and draw attention to the barriers people face in living meaningful lives in their communities. Together we are better!