What is Digital Accessibility?
The third Thursday of May is Global Accessibility Awareness Day (GAAD). This awareness day focuses on highlighting the importance of digital accessibility and inclusion for people with disabilities and impairments.
What is Digital Accessibility?
Digital Accessibility is the concept of making digital tools accessible by everyone. This includes websites, mobile apps, video and audio, electronic documents, and other online and offline digital content. It is the idea that people with a diverse range of hearing, movement, sight, and cognitive abilities have access to the same information and can interact with the same content by ensuring websites are easy to use and navigate regardless of any disability or physical impairment.
Important principles of web accessibility include ensuring that information is understandable and easy to access, nothing is undetectable, invisible, or hard to see; and interactive elements are operated physically by clicking, swiping, or through voice commands. Websites should also work reliably with assistive devices, such as text-to-speech applications and head and eye trackers.
Why is Digital Accessibility Important?
Today, 61 million adults in the United States live with a disability. That is 26% of the population (one in four adults). The most common disabilities include mobility, cognition, hearing, and vision related disabilities.
Digital Accessibility is more important than ever. Most essential services such as banking, healthcare services, entertainment, and commerce now primarily operate in the digital space. Inclusive website design and developments in digital accommodations removes barriers for people in all spheres of daily living. Accommodations in the digital space also unlock opportunities to connect to other people and build relationships in digital communities.
Jay Nolan Community Services' Commitment to Digital Accessibility
Jay Nolan Community Services (JNCS) is committed to promoting inclusion of all people, both in our communities and in the digital space. That includes a commitment to Digital Accessibility. Our team ensures that access to our website, technology, and tools is easily attainable for all.
Examples Include: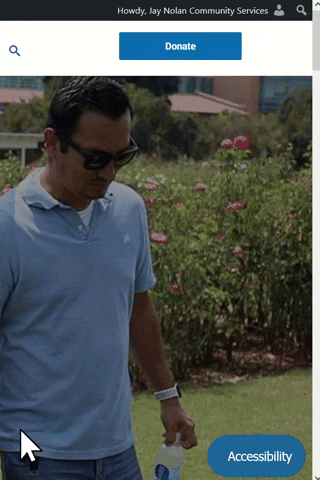 Every page of the Jay Nolan website is designed to meet the internationally recognized Web Content Accessibility Guidelines (WCAG).
Our videos come with English closed captions and Spanish subtitles.
An auto-translate function is also available that generates subtitles in all other languages on the fly.
We include 'alternative text' ('alt-text') describing every image.
We provide image descriptions on social media posts.
You can use the 'Accessibility' button at the bottom right corner of your screen on the jaynolan.org website to change the settings of the website depending on your needs. This includes accommodations for the visually impaired, people with ADHD, Epilepsy, and cognitive disabilities.
You can also manually change the settings depending on your preferences, such as increasing text size, highlighting links, changing the size of the cursor, and more.
Digital Accessibility is an Ongoing Process
Although insuring compliance with these standards is a great starting point, creating a truly inclusive digital space requires going beyond the bare minimum and meeting people where they are. Starting to think about how different groups of individuals access information and the lengths they may have to go is a great stepping off point.
Not everyone has the same means of accessibility as others, especially when it comes to videos online. One of the opportunities that JNCS is working toward is a concept called "picture and picture," where all videos uploaded to the website will have a recorded ASL interpreter transcribing the video instead of being limited to only captioning. As an agency supporting people who are Deaf or Hard of Hearing, we can work to provide ASL interpreters as needed to produce videos with visual interpretation already built in (or having the speaker of the video interpret themselves).
Accessibility Awareness in the Digital Space
Jay Nolan is committed to helping every single person access our website and informational social platforms in a manner befit for them. By staying up to date with the needs of our community, we can become more aware about the limitations of our current modes of spreading important information, and work to conceptualize how might a more inclusive route looks.
---
Sign up for our newsletter to learn more about how Jay Nolan Community Services fulfills our mission to promote inclusion of individuals with disabilities every single day.