The JNCS Community Celebrates Autism Acceptance Month
In honor of Autism Acceptance Month, we collected testimonial and photos from our staff and clients, asking them how they are living their lives, what motivates and inspires them, what does acceptance mean to them.
This is what they said…
Salvador Jaimes, Community Facilitator III
I have been working for Jay Nolan Community Services for about 3 years. I have been working with Daniel for about two years. Daniel is a very honest, loving and caring individual. I love working with Daniel because he is able to follow my instructions when we do language arts activities at home and when we go to different places in his community like grocery stores, YMCA Gym and restaurants. I Love working with Daniel because he is so honest and sincere. Daniel is able to let me know when he is feeling frustrated or when he is excited to do an activity with me. I enjoy supporting him because I'm helping him explore his environment and guiding him to become more successful in his life.
As I mentioned previously, I enjoy working with Daniel, I could see he is happy when he sees me. I know when I have to give him his own personal space. Once he is feeling better he is able to come to our working space and continue with the lesson or schedule. Daniel is able to enjoy his community by going to different places like restaurants, parks, churches and the gym. We work together, we enjoy ourselves spending time together. I feel like Daniel is part of my family. His family welcomes me at their place with love  and affection.  I feel great working with Daniel because I feel that I am making a difference  in his life and his family.

I am blessed to have this opportunity to work with this incredible person and to be part of his life. I feel great that I could impact Daniel's life and future by working with him in his community.

Daniel is a great kid!!!
James Fentress & Christian Quijano
Nam An/ Family Support Service Coordinator 
Describe your job in 3 words: Connecting, Listening, Encouraging

Longest working relationship story:

I worked with John (still keep in touch) for five and a half years.

We had so much fun. We traveled to Seattle, Victoria Island (Canada), Atlanta together. We played golf together, watched movies but also worked hard.  We attended community college classes, continuing education classes, participated in various volunteer opportunities, church gatherings and enjoyed cooking.

Best Tip on Building better relationships: Human relationship is an art. We have to invest so much time and great effort in order to bear a precious fruit of successful relationship. I had a great relationship with the parents. Parents trusted and respected me and John also trusted me for what I do for him
Lily Handley, Supervisor of Access to Community Employment
Describe your job in 3 words: Spontaneous, Fun, Engaged

Best relationship advice: Don't be a person's only person! The "pursuit of happiness" is a human right for everyone and that includes having opportunities to develop connection, friendship, romance and companionship.

Choose someone you support and tell us one thing that you love about them: I support Kimi Zolriasatin as part of her circle. She has a great sense of humor and her laugh is highly contagious!!!

Longest working relationship story?

I have known some of the people in circles I support for 7 years! I love when people reach goals that they set for themselves and step into a prominent leadership role in their lives, especially in their circles of support.

When I starting working with one man 6 years ago he was having very frustrating, long, wandering circle meetings led by staff. We re-structured the meetings and now (with his support staff's assistance) he schedules and sends invites for his meetings, he creates an agenda before the meeting, and once we are all there he takes charge and walks us through the agenda. If someone wants to talk about something they need to ask him beforehand if it can be added to the agenda. It is clear when we meet that people are looking to him as the one in charge of those meetings now.
Carlos Aragon, Family Support Coordinator
Describe your job in 3 words: Resolve, Assist and Report

Longest working relationship story?

The client I supported for four years had a difficult time expressing his wants and needs. It took me about a month to get him to tell me what he likes to do for fun. We were at the mall and he pointed out on some Funko Pops he was starting to collect. One day we saw one that we both like but he didn't have enough money to purchase the pop. I expressed to him that we should both budget our money till the following week, where we will have enough to purchase the pops and he agreed that we should we should save money. During the week, we found activities that didn't cost anything and brought our own snack and drink from our homes. The following week came and we were still short. My client suggested that we should recycle till we get the rest of the money to purchase the pops. We were recycling till we finally had enough. We went to the store and he asked me that if I can order for him. I explained that I wasn't able to since they only sold one pop per person and that I will guide him with his purchase. He was able to purchase his item on his own and realized that with practice he can get better with purchasing on his on and budgeting.

Best Tip on Building better relationships: Get to know the person you're supporting and find a common interest that both client and staff can enjoy doing together.
Yun-Hee Kim, JNCS Support Staff
Yun-Hee shared his thought in Korean, these are her words translated to English:

Yun-Hee likes her client because she is a pretty young lady. And Yun Hee loves her job because working with Jung-Mi makes her to think about what kinds of person she ought to be and motivates her to become a better, kind and loving person. And also Yun-Hee finds great joy and feels that her dedication is paying off when she sees that her client is growing up, little by little and everyday through her life as an unique intelligent individual.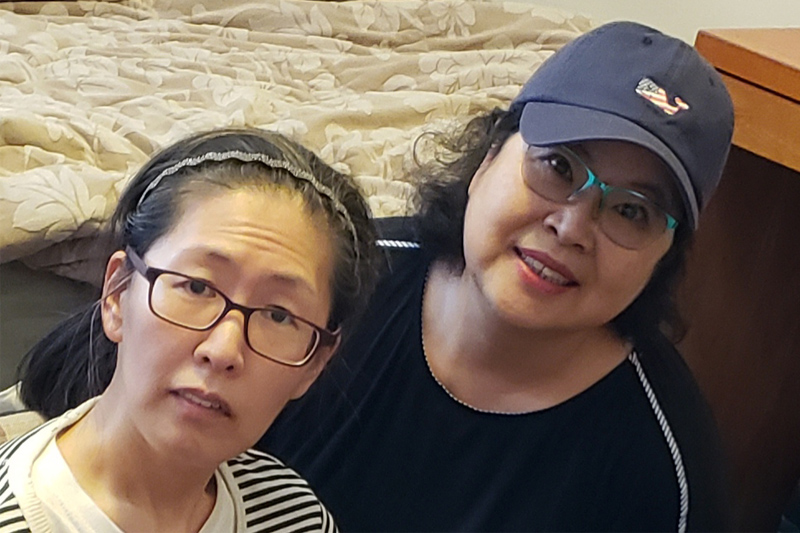 It's not too late to take the JNCS pledge.
Please share this picture on social media if these are words you live by.
MY PLEDGE | THE JNCS PLEDGE

I believe that everyone has the right to live, work and study in a community where they feel welcomed, safe, included, valued and accepted.

I pledge to be respectful of others, encourage diversity and acceptance, demonstrate empathy, recognize people's strengths and abilities, challenge bias and discrimination, and foster safe and inclusive environments for people with disabilities.